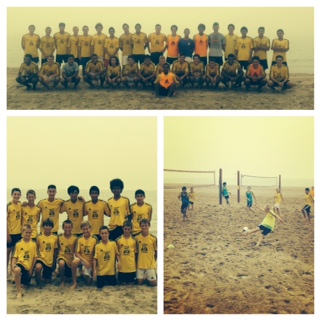 8.23.14 – For immediate release
On Friday August 22nd, the USSDA program took to Bradford Beach for some fitness, skill work and fun during their last weekend of preseason.
"It become an annual outing for our program.  It's a great change of scenery in a long grind of a preseason.  The boys have worked extremely hard on both fitness and ball work, the change of scenery helps to rejuvenate them a bit.  The energy was great in all phases.  Plenty of work, fitness and fun" said USSDA Director Ben Shepherd.
The boys did some strength, conditioning and core work with Coach Provan on the beach and then proceeded to have some disguised fitness on the beach with sprints, relays, and ball work.  They finished off the morning sessions with some sand soccer where they displayed some creativity and fun on the sand volley ball courts.
"This is awesome.  We should do this again" said Sam Zelazny.
Hard work and good times were had by all. 
The USSDA teams open up their season on the road vs MLS Club Columbus Crew on September 13th and then travel to Internationals to compete on the 14th. 
For more information on the club and all our teams please visit www.fcwisconsin.com
For updated scores and highlights, follow us on twitter and Instagram.
Twitter:  @FCWisc
Instagram: fcwisconsinnationals