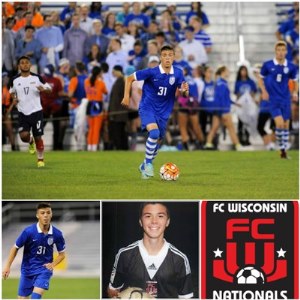 12.2.15 – FC Wisconsin.com's 'Where Are They Now' feature, regularly provides FC Wisconsin club members with an opportunity to catch up with former players. In this addition we are fortunate enough to catch up with Brady Lenius, who is currently a freshman at Saint Louis University.
Brady has just finished his first season as a true freshman with the Biliken's who were ranked as high as #14 in the Nation at one point in the season. As a freshman Brady was able to see meaningful action throughout the course of the season and this was highlighted by him playing 56 minutes in the last regular season game against Georgetown who won the regular season A-10 Championship. Below Brady talks about his time with FC Wisconsin and how it helped him adapt and adjust to the rigors of the College game.
Interview:
Q. You have just finished your Freshman campaign at St Louis University who were Nationally ranked throughout the season. Were you happy with how the season went both for the team and you personally?
L. It was a great first year to get settled into the college game. Although the team didn't do as well as we would've liked, it was a great year for me to improve on my skills looking ahead into the future. We ended up losing 4-2 to Rhode Island in the Quarterfinals of the A-10 tournament and that doesn't sit well with us. We are continuing to push forward and looking to improve for next year.

Q. Your family made a significant commitment to driving you back and forth from Sturgeon Bay, to FC Wisconsin, on average 5 hours per training night. Was the commitment and drive worth the time and how did it help you prepare for college life in terms of time management?

L. The commitment to drive 5 hours a night for practice was definitely worth it. It was a decision that both my parents and I wanted to make. FC was where I needed to be in order to be playing at the highest level and to get my name marketed out to colleges. FC provided a professional atmosphere that would help aid to my skills for college ball. I knew that the coaches at FC were the best In the State and would push me to get better every day and that was the goal of the big commitment. The whole experience prepared me for college life in the sense that I had to do all of my homework in the car. This is very similar to the life of a student-athlete because athletes are forced to get their homework done on the road and many times traveling in a bus. FC helped me with this and it wasn't a big adjustment for me once I was in college.
 
Q. What would you tell those players who are trying to decide to make the drive to FC Wisconsin about your overall experience?
L. I would tell them that it is definitely hard to travel so often for practice but in the end it will be worth it. The coaches will do whatever they can to get you to the next level and they will push you in every single practice. FC provides an atmosphere where you are playing with the best players in the state and also across the United States. You may be playing with Nationally ranked players and that is an experience that you can't get anywhere else.

Q. St Louis has typically been a top program in the nation. What are the similarities SLU and FC Wisconsin have in terms of training, culture and atmosphere?
L. Both atmospheres have an electric feel to it. Soccer is the life at both places and everyone has a passion for the game. Every training is intense and they both push you out of your comfort zone. In both places, you have coaches critiquing every aspect of the game and they will help you understand the different parts of the game. Both places make the game easier and after playing at both, the game has seemed to slow down for me and I am more relaxed on the field. The drills and intensity are very similar at both FC and SLU. I haven't really been shocked by any of the drills due to the fact that FC has provided me with something very similar.
Q. It is traditionally difficult for freshman to break into the travel squad, or earn game time or receive significant time and roles within a top College Program. Why was it different for you?   What earned you a significant role and playing time as a freshman in nationally ranked program?
L. In many top college programs, freshmen rarely see the field and they are just there to get better for upcoming years. That wasn't the same for me and for most of the other freshman this year at SLU. Every one of the freshman got some sort of playing time this year and many of us made the travel rosters every time. FC helped me with this because they pushed me to practice like I would play in a game. This helped me at SLU because every practice was a shot for me to break into the travel roster or to earn myself some playing time. That was the same with FC. At FC, you have to perform in practice and you have to earn your playing time. No one is guaranteed anything and that is a good thing because it pushes you and the team forward and it really prepares you for college soccer. Overall, my willingness to win and my hard work rate helped me earn my playing time at SLU and that was all driven into me at FC.

Q. What were the benefits of playing for FC?
L. FC puts you in a spot to be seen by nationally ranked coaches and teams. The coaches at FC will help you get into contact with college coaches and they are always caring about your future. At FC, you are playing at one of the highest levels that you can for your age and every practice is one that you could see at the college level or even higher. The coaching staff is excellent and every one of the coaches has great experience and you can take something away from any one of them. FC is a great learning experience and they provide you with all the exposure, practices, atmospheres, and everything that will help you succeed.

Q. What were the best aspects of your FC experience?
L. I had a very good relationship with the coaches and they weren't afraid to pull me aside and to give me tips to improve on my game. This is where most of my learning came from and that helped me to bring my game to the next level. I thought that the trainings and the games also helped my experience. The practices are very intense and each practice makes you think and they help expand your game. Every game that you play, you are playing the highest level clubs and you will be tested in every game. Overall, just the level of play around me helped to push myself and to get better.

Q. What did you learn the most from playing with FC?
L. I learned that every day is a day to get better. Whether you are sitting watching or if you are playing, it is a time to take something away and to get better. You learn the different parts of the game and you learn more about the different tactics of the game and how to attack each team. FC helped me to improve on my soccer intelligence.
Q. What are the biggest differences from playing Club and playing in College?
L. College is just a step above in every aspect. The guys are bigger, faster, stronger, and you are playing the best kids in the United States. Once you are in the college game, you might not be the best player out there and it may be just a different experience if you don't get playing time. College is just a big adjustment but FC prepares you for this adjustment in every way.
Q. What is your lasting memory from playing with FC?
L. My favorite memory is beating Chicago Fire 1-0 at home and knocking them out of first place in our league. Fire was supposed to beat us without any problem but we dug in and we got the W. It is always hard beating an MLS team and it is always great beating a team that is completely funded and they are supposed to have the best players. It was a great effort by the players, club and all the hard work that the coaches put in on a daily basis.
Q. What do you think makes FC different from other Clubs?
L. FC is full of a great coaching staff that will watch you closely and give you tips to help bring your game from level to the next. They care about you and they want to see you succeed where at other clubs they might not care as much.
Q. You have some great attributes to your game, and your personality.  Give young players 3 things that you feel are your strengths, that could help separate themselves from others when trying to play at the next level? 
L. Communication: (Be vocal and don't be afraid to talk to your teammates)
    Hard Work: (Give everything that you have every single day)
    Coachable: (Be able to take advice from anyone and try to learn as much as possible)