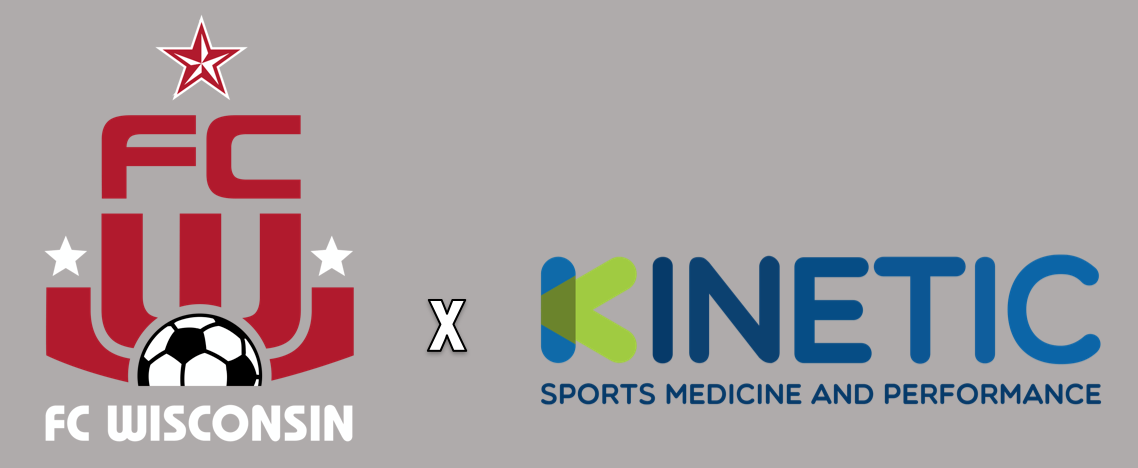 FC Wisconsin Partners With Kinetic Sports Medicine and Performance
FC Wisconsin is excited to announce a new partnership with Kinetic Sports Medicine and Performance. This strategic partnership will provide our players and families direct access to an elite sports medicine organization. Kinetic Sports Medicine and Performance exists to help athletes return-to-play and maximize their elite performance. Their staff has experience in physical therapy, athletic training, and strength and conditioning and has worked with professional sports and NCAA Division I athletics. As Kinetic Sports Medicine's mission statement states, their goal is to deliver the same care and treatment to local athletes that they could get from an MLS or Premier League team. They combine clinical expertise, athlete-centered care, best available research, and the latest technology to help athletes get the best outcome. They help athletes recover from all ranges of injury - from minor aches and pains like a sprained ankle, sore knee, or strained hamstring to recovery from more significant injuries like an ACL tear.
As part of this new initiative, Kinetic Sports Medicine will provide FC Wisconsin and its families with the following:
a physical therapist on-site for one hour/week at trainings to provide free injury consultations, evaluate any injuries and give basic advice on return to play exercises,

teach at least two workshops a year on health and wellness for our players and parents to help with elite performance,

provide baseline testing for our older aged players two times a year (pre-season and post-season) to track trends and look for any concerning changes related to injury risk in players which will help prevent significant injuries, and

player utilization of the Kinetic Sports Medicine and Performance facilities' "recovery room" one time per month, free of charge.
"As a club we are always striving to provide more opportunities and utilize more resources to continue to aid our players overall development. The importance of sports science with regard to elite performance is essential, along with overall general good health and wellness. Having the expertise of Dr. Michael Falk and Dr. Lauren Falk, who are the founders of Kinetic Sports Medicine and Sport Performance, represents a fantastic opportunity for our players, parents, and the club in general," said Co-Director of Coaching Ben Shepherd.
This partnership with Kinetic Sports Medicine and Performance will come into immediate affect and FC Wisconsin is excited to have them attend upcoming trainings before the conclusion of the 2020-2021 season.
"Our team at Kinetic is excited to partner with FC Wisconsin – one of the premier soccer clubs in this part of the country. We are passionate about helping local athletes and appreciate that FC Wisconsin values their players' overall health, wellness, and performance. We share a commitment to excellence, as our goal is to be the premier sports medicine and rehabilitation provider in the area," stated Dr. Michael Falk.