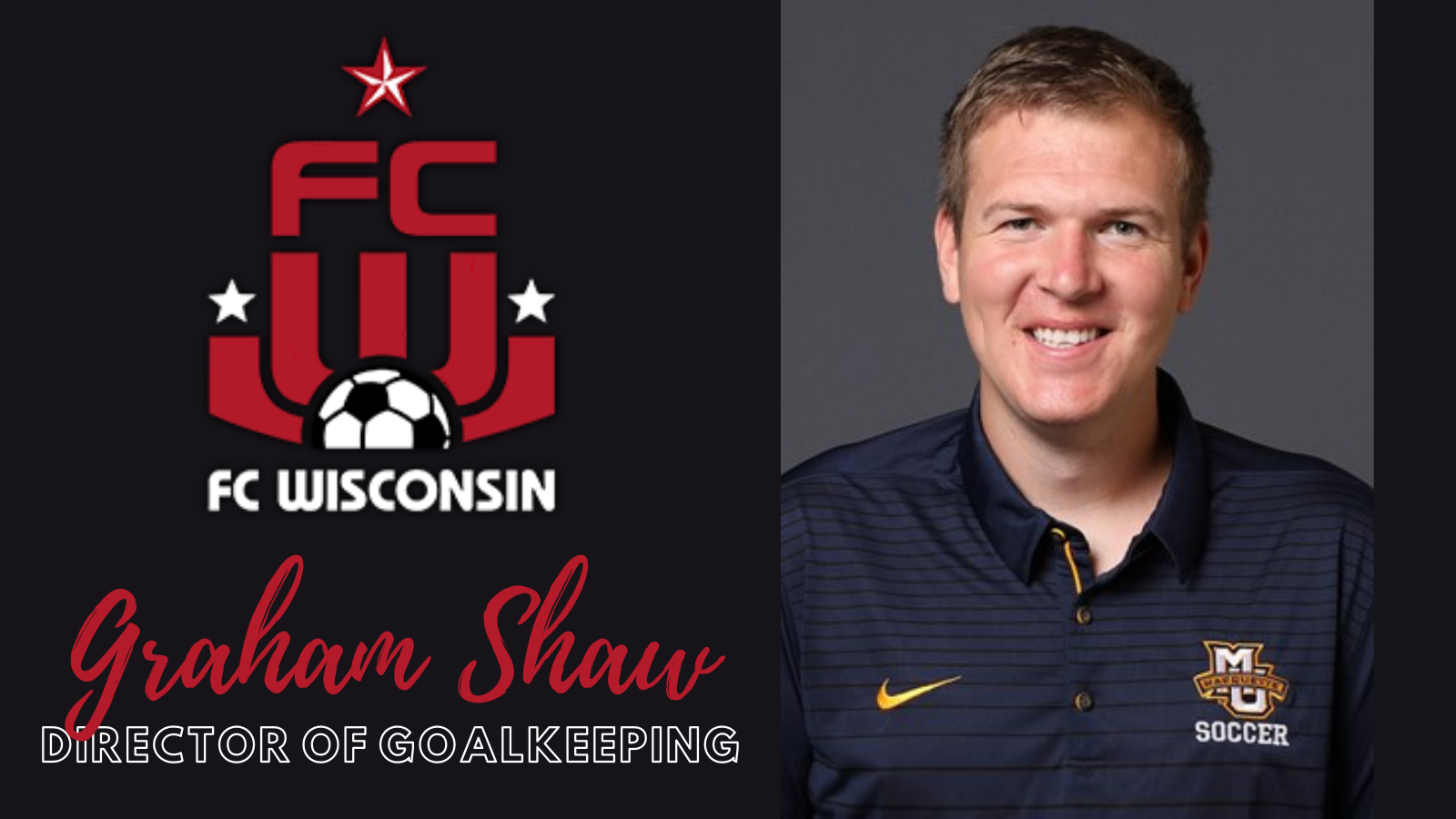 Marquette University Assistant Coach Graham Shaw Joins FC Wisconsin Coaching Staff as Director of Goalkeeping
FC Wisconsin is thrilled to announce the hiring of current Marquette University Assistant Men's Soccer Coach Graham Shaw as our Director of Goalkeeping. Graham will immediately begin overseeing our Goalkeeping Program for all ages, as well as work with our U15-U19 teams.
In addition to joining FC Wisconsin's staff, Shaw will continue coaching within Marquette University Men's Soccer Program. Over Shaw's four seasons with Marquette, their goalkeepers have thrived. He has developed two All-BIG East honorees, including 2019 MLS SuperDraft pick Luis Barraza.
Marquette University Head Coach Louis Bennett shares, "What a great opportunity for Marquette and FC Wisconsin to work with Graham Shaw as goalkeeping coach for the Marquette Men's Soccer Program and to be FC Wisconsin's new Director of Goalkeeping. Graham has been an intricate part of Marquette's success in establishing top-level defending and quality goalkeeping. He is highly qualified and experienced, working with players of all ages. He will be a great fit and asset to FC Wisconsin. Marquette has always encouraged and enjoyed working with the soccer community and Graham will continue that tradition in his new role with FC Wisconsin."
Shaw's coaching has proved to be critical in the development of 2019 MLS SuperDraft pick Luis Barraza (New York City FC, 12th overall), who was named the 2018 BIG East Goalkeeper of the Year in addition to being a First Team All-BIG East selection. Barraza was one of the best keepers in the country in 2018, finishing the season ranked in the nation's top-10 in save percentage (.830) and saves per game (5.20). He ranked 21st overall in total saves (78) and led the Golden Eagles to the BIG East Tournament final for the first time since 2013.
"Graham is an exceptional hire for FC Wisconsin and we are excited about the impact that he will have among our Goalkeeping Program and our teams in general. In his role at Marquette, he has shown his ability to develop players and specifically goalkeepers to play at the professional level. That expertise will be hugely beneficial for FC Wisconsin goalkeepers. Graham's background will greatly impact so many young players within our club. The knowledge and experience he will bring to our club will continue push our players to play at the highest level possible," said FC Wisconnsin Co-Director of Coaching Ben Shepherd.
Shaw hails from Liverpool, England, where as a player he represented professional club Tranmere Rovers F.C. Academy and Liverpool School Boys. Shaw holds both English FA Level 1 and 2 Coaching Certificates, as well as a UEFA B License and NSCAA Goalkeeping Levels 1, 2, and 3 Badges.
"Having worked firsthand with former FC Wisconsin players at Marquette University, I am aware of the caliber of players that the club is producing on a regular basis. Having spoken with Ben Shepherd about the opportunity to work at FC Wisconsin, I knew it was a project that excited me and also would challenge me personally. I can't wait to get started and look forward to working with the current goalkeepers to help them achieve their aims of playing at the next level," said Graham Shaw.
"Adding Graham to our staff is a great addition to FC Wisconsin. Graham is the perfect fit for our staff and players. We already have an excellent staff and with eight coaches who have either coached or are currently coaching within the college game, there is more than 55 years of college coaching experience within our club. We can't wait for him to get started ... welcome to the FC Family," added Co-Director of Coaching Billy Solberg.