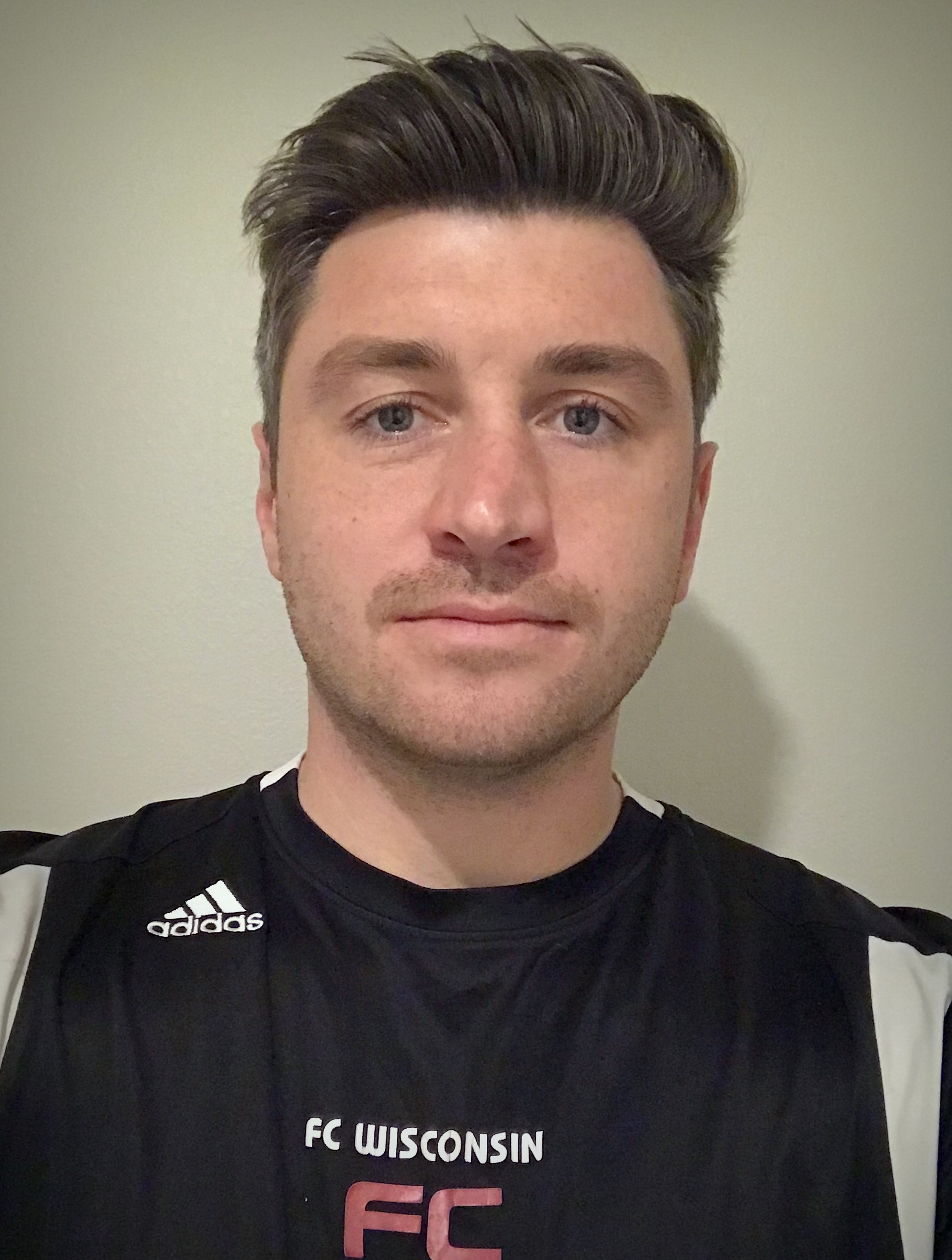 Where are you from?
Doncaster, England
What city do you live in currently?
Milwaukee, Wisconsin
How long have you lived in the Milwaukee area?
Since 2011
What school did you graduate from?
University of Wisconsin-Milwaukee for my undergrad and Cardinal Stritch University for my masters
What was your field of study?
Kinesiology
Best playing memory?
In England, scoring a last-minute winner against Leeds United Reserves. In America, scoring the winning penalty in the Final Four as a freshman to go to the NCAA DII National Championship Final.
Big or small family?
Big – loads of aunties, uncles and cousins
Do you have any pets?
One good dog called Big Tols
Favorite soccer team?
Liverpool FC
Favorite soccer player?
Steven Gerrard and Ronaldinho
Who's better, Messi or Ronaldo?
Sadio Mané
Favorite professional coach?
Jürgen Klopp – The Boss
How long have you coached for?
Seven years
How long have you coached at FC?
Six years
Are you full-time or part-time with FC?
Part-time
What is your full-time job?
Head Soccer Coach at Cardinal Stritch University
Favorite sport to watch besides soccer?
Golf when Tiger is playing
Favorite thing to do in free time?
Watch Footie
Who's your favorite athlete?
Virgil van Dijk
What was your first job? When did you have it?
A paper route – started when I was 13 delivering papers every morning before school for 10-pound sterling per week!
Do you prefer to cook or eat out?
Eat out
What's your favorite meal?
Shirley Bladen's lasagna or a proper Sunday roast
What is your favorite type of foreign food?
Italian – Spaghetti Carbonara
What is your favorite holiday and why?
Christmas because I go home to the UK and spend time with my family and friends
Favorite TV Series?
Entourage
Favorite music artist?
Tupac Amaru Shakur

Favorite time of the year and why?
Summer – World Cups, Champs League Finals, Euro's, Youth National Championships, College Pre-Season, Garden Parties…I can carry on all day!
Best city you've visited?
Liverpool, UK