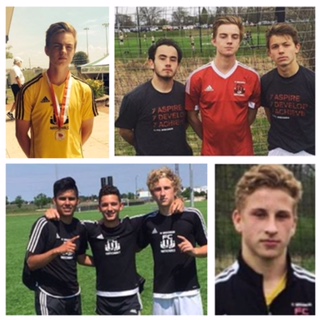 FC Wisconsin Players Selected to High School All-American Game
Leas and Wegner selected to 6th Annual All-American All Star Game
For immediate release:
FC Wisconsin Seniors Ben Leas (Marquette High) and Zak Wegner (Arrowhead) have been selected to attend the 6th Annual High School All-American Game.
The High School All-American game will see 40 of the Nation's top High School players from across the country participate. The players selected are seniors who have finished their high school careers and represent their high school teams during the fall season.  Both Leas and Wegner are the only two players from the State of Wisconsin to be selected. Leas has already verbally committed to the University of Wisconsin, and Wegner has committed to Marquette University for the fall of 2017.
Leas and Wegner play on FC Wisconsin's U18 NPL team and have been with the club from a very young age. "This is another accolade for these boys and a tribute to all their hard work.  Their work ethic and intensity at training is always of the highest level. This is well deserved and congratulations as well to both Marquette High and Arrowhead" said Co-DOC Ben Shepherd.
Leas who has been at the club since he was 8 years old had this to say on his selection: "I'd like to thank the club as no club focuses on player development more than FC Wisconsin. The coaches have pushed me past my comfort zone and the players within the club hold you to high standards. The training sessions are always buzzing with intensity and you know that all the players and coaches want the best from each individual and this has played a massive part in my development."
The game will take place in Raleigh, North Carolina the weekend of December 3rd.
"We pride our club on true player development.  We preach long term development, training the right way, training on the edge of our comfort zone, learning from our mistakes and pushing players to reach their highest potential. Both Ben and Zak have been with the program for many years and we are extremely proud of their accomplishments" said Co-Doc Billy Solberg.
"Playing with FC Wisconsin has provided me with the best possible coaching opportunities which has pushed me to work hard on every aspect of my game. The club focuses on making each individual the best well-rounded player possible. Due to this expertise I have been developed and exposed to many new opportunities which has greatly aided my development," said Wegner.
Congrats and best of luck representing the State of Wisconsin!