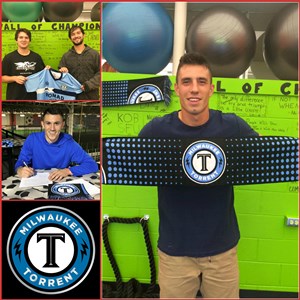 11.18.15 --For Immediate Release:  Four FC Wisconsin Alums sign first professional contracts with the Milwaukee Torrent.
FC Wisconsin players and families will now have the opportunity to watch four Alums play professionally in Milwaukee starting this Spring 2016. Luke Goodnetter, Stuart Grable, and brother's AJ Patterson, and Tony Patterson have all joined the professional ranks by signing for the Milwaukee Torrent for their inaugural 2016 season in the American Soccer League.
The Torrent owned and coached by German native Andreas Davi will play in the new American Soccer League II (ASL II) starting this spring. "We are really pleased to have signed these guys, and expect them to have a big impact on the roster" commented Davi.  "We are excited to establish a relationship with FC Wisconsin who are continually developing high level players to go on and play at the Collegiate and professional levels."
FC Wisconsin currently has 9 players who are actively playing at the professional level in the MLS, USL, MASL and the new ASL II. "As a long term athlete development driven club, we are always pleased to see players get opportunities to play at the next level" Said Co-Director of Coaching Ben Shepherd. "The true measure of success for any development driven club is the success that players achieve once they move forward in their careers. We are proud to now have so many players excelling in the college game as well earning opportunities at the professional level".
For more information regarding the Milwaukee Torrent please see below:
Facebook: Milwaukee Torrent
Instagram: MilwaukeeTorrent
Twitter: @mketorrent
For updated FC WISCONSIN scores and highlights, follow us on Facebook, twitter and Instagram.
Facebook: FC Wisconsin Nationals
Twitter:  @FCWisc
Instagram: fcwisconsinnationals