for Wright State University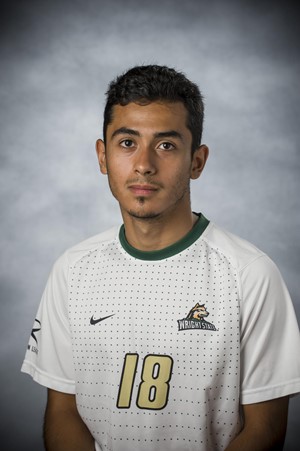 In this Where Are They Now feature, FC Wisconsin (FCW) catches up with alum Simar Perez. Perez played for FC Wisconsin for eight years and served as a captain on the FC Wisconsin 2017 NPL National Championship team. In his time with the club, Perez was called up to the US Soccer National Training Center and spent time with the Portland Timbers Academy.
Now a freshmen at Wright State University, Perez's success has continued into his college career. The Raiders won the 2018 Horizon League Regular Season Championship and Perez was also selected to the Horizon League All-Freshman Team.
In the interview, Simar Perez talks about his time with FC Wisconsin and how it helped him adapt to the rigors of the college game.
Q. How long were you a player with FC Wisconsin and what made you join the club?
I started playing for FC Wisconsin at age 10 and played a total of eight years for the club. I joined FCW because I knew that the training would be at a high level and I wanted to be a part of that. I also knew that FCW would help me get to the point where I am now (playing college soccer) because FC Wisconsin had a history of developing some of the best players in the state.
Q. What were the benefits of playing for FC Wisconsin?
FCW has a lot of benefits for a player. They are really focused on how you develop as a player throughout the years and they also push you to your max effort every day. As I've gottten older, I've realized that the coaches cared about my success and the goals I had for myself as a player, and they helped me reach every goal I had set.
Q. What were the best aspects of your FC Wisconsin experience?
One of the best aspect to playing at FCW was the training. I was always excited to go to training, as the club created an environment that was professional and businesslike. I knew that I would learn something new or improved an aspect of my game at each training. Another best aspect was that every one of my teammates came in ready to work and ready to improve, which helped everyone in the long run.
Q. What did you learn the most from playing with FC Wisconsin?
A lot was learned while playing with FCW, but the most important thing I learned was hard work. The coaches push you to limits you wouldn't think you could reach. They also had high standards of you and your teammates at every training.
Q. What are the biggest differences between playing club and playing in college?
The only differences I would say with playing club versus playing college is that you're playing with players that are more experienced and it's more about winning games and less about developing. There is also a lot of competition to get on the roster and into the starting lineup. You have to treat every training like it is a game. FC Wisconsin really prepared me mentally and physically. The coaches taught me to work the hardest I could and to never give up.
Q. What is your lasting memory from playing with FC Wisconsin?
I've made many memories throughout the years, but I would say the one that will last a lifetime was winning the National Championship my second to last year. This took many years to accomplish. As a team we continued to grow together and create an environment that no other club could create. From day one, the coaches believed that we had something special and knew we could accomplish something great.
Q. How did playing and training at FC Wisconsin help prepare you to have such a successful first year at the collegiate level?
When I first came to college, I really didn't know what to expect. Yet, after the first training session I didn't think it went too bad. I felt that FCW prepared me by having a similar training environment as the collegiate level.
Q. What advice would you pass on to our younger players who have ambitions of playing in college?
The advice I would pass down to younger players is to demand the most out of each other and push each other to new limits - this will help you in the long run. When you come to training, be ready to train. The standards are set pretty high for you, and no other club has the same standards as FC Wisconsin. Also, take the advice that the coaches give you. They are not saying it for no reason, they are saying it because they see something in you that can help you become a better player.
Q. What do you think makes FC Wisconsin different from other clubs?
FC Wisconsin stands out from other clubs in many ways. Once you step foot on the pitch, you are part of a family that no other club will offer. Yes, the coaches care about your development and your success in soccer, but they also care about you outside of soccer. I am happy that I was able to call FC Wisconsin home. To this day, I still connect with former FCW teammates and the coaches. In every aspect of soccer and family, no other club will compare to FC Wisconsin.